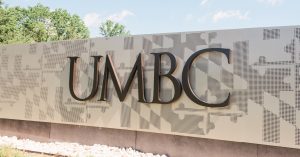 The UMBC Center for Cybersecurity (UCYBR) is an interdisciplinary university-level center that unifies UMBC's many cybersecurity capabilities. The Center aims to provide Maryland, the nation, and global partners with academic and research leadership, collaboration, innovation, and outreach in this critical discipline by streamlining our academic, research, workforce development, and technology incubation activities to advance UMBC's position as a leading research university in cybersecurity-related disciplines.
UMBC embraces a holistic approach to cybersecurity as a key component of national, economic, and personal security. Thus, we view cybersecurity as far more than just defending computers and networks in a technical sense. Effective cybersecurity requires not only technical excellence but an understanding of cybersecurity's human factors, along with meaningful collaborations and relationships across society to put good cybersecurity technologies and concepts into practice. Accordingly, our approach to cybersecurity is based upon three pillars:
Education: Providing quality undergraduate and graduate education and workforce development in cybersecurity-related fields.
Research: Conducting innovative, interdisciplinary, and collaborative inquiry into cybersecurity issues from both the technical and social science perspectives.
Entepreneurship: Working with industry partners locally and around the world to incubate and grow new cybersecurity companies offering innovative products and services, and transfer intellectual capital from research to practice.
UCYBR draws upon UMBC's expansive range of academic and research faculty expertise in not just the computing disciplines (computer science, computer engineering, electrical engineering, information systems) but also in the natural, mathematical and social sciences. It enhances and expands upon the mission of UMBC's Center for Information Security and Assurance (CISA), which, for over fifteen years, has been the central point of cybersecurity information, research, education, special activities, and the development of sound internal cybersecurity practices on campus. UMBC is one of the few universities in the nation designated both a Center of Excellence for Cybersecurity Education and Cybersecurity Research by the National Security Agency and Department of Homeland Security.
It is an exciting time for cybersecurity in Maryland. Besides the many prominent government and commercial organizations already located in Maryland and the National Capitol Region, UMBC's strategic location just 10 miles from Ft. Meade (headquarters of the U.S. Cyber Command, National Security Agency, and the Defense Information Systems Agency) makes UMBC an ideal organization to partner with in exploring, supporting, researching, and sustaining the multidisciplinary requirements of this most critical discipline.