Workforce Development & Training
UMBC Training Centers' Cybersecurity Academy
In addition to traditional for-credit academic programs, through the UMBC Training Centers, individuals may enroll in the Cybersecurity Academy, which offers a non-credit training program to provide professionals technical and operational cybersecurity training required to meet the needs of the military, intelligence community, federal civilian agencies, and the commercial sector within the Mid-Atlantic region.
The aim of UMBC Training Centers' Cybersecurity Academy is to transform civilians and military personnel with basic computer literacy skills into professionals ready for entry-level positions within one of five Computer Network Operations (CNO) job specialties.
There are four Certificate Programs offered by the Cybersecurity Academy
Certificate in Cyber Foundations
Certificate in Cybersecurity
Certificate in Cyber Operations
Certificate in Cyber Development
For more information please visit UMBC Training Centers Cybersecurity Academy website.
UMBC Summer Enrichment Academy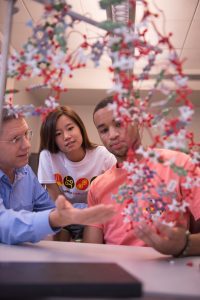 For grades 6-12, the Summer Enrichment Academy (SEA) at UMBC offers unique, fun, challenging and mind expanding academic summer workshops and camp programs for middle school and high school students that can't be found anywhere else. SEA brings students exposure to the college experiences with opportunities in science, engineering, technology, the arts and humanities, all led by UMBC faculty, industry professionals and graduate students. Our one-week introductory and advanced cybersecurity sessions remain popular with local high school students!