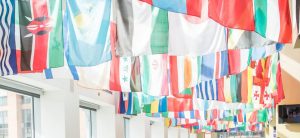 UMBC builds and/or maintains collaborative education and research relationships on cybersecurity issues with a variety of universities, research centers, and faculty around the world, including:
Johns Hopkins University Applied Physics Laboratory (JHU APL)
UMBC-APL partnership: The Institute for Trusted Space Systems – ITSS
United States Naval Academy (USNA)
UMBC's 2015 Cooperative Research and Development Agreement (CRADA) with the Naval Academy formalizes opportunities for research collaboration between faculty from UMBC and USNA, with several prior and ongoing projects funded through the Office of Naval Research (ONR).
International Cybersecurity Center of Excellence (INCS-CoE)

INCS-CoE is an international partnership among academic institutions in Japan, the United Kingdom and the United States to focus on questions of cybersecurity within a borderless environment, which can make it difficult for any one nation or organization to adequately monitor and effectively take countermeasures against cyberthreats.
INCS-CoE regularly hosts a range of invite-only talks about bleeding-edge in-process research from participating institutions.
University of Maryland Baltimore (UMB)
UMBC-ICTR CORE:  Cybersecurity and Artificial Intelligence.  UMBC is proud to join UMB's Institute for Clinical and Translational  Research.
Other Global Universities
Northeastern University (USA)
Imperial College London (UK)
Royal Holloway University of London (UK)
Keio University Cybersecurity Research Center (JP)
Kyushu University Cybersecurity Center (JP)
Tel Aviv University ( IL)
University of Porto (PT)
Universität der Bundeswehr München (BRD) – Dr. Arno Wacker
IIT Delhi Center of Excellence in Cyber Systems and Information Assurance (IN)
Cybersecurity Education and Research Center, Indraprastha Institute of Information Technology (IN)