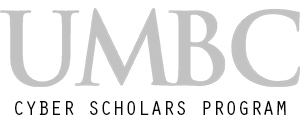 About the Program
The goal of the UMBC Cyber Scholars Program is to prepare the next generation of cybersecurity professionals in an increasingly digital age, with a focus on increasing the participation of women and other underrepresented groups in this fast-growing field.
The UMBC Cyber Scholars Program is directed by the UMBC Center for Cybersecurity and run in partnership with UMBC's Center for Women in Technology (CWIT). The program was started through a generous $1 million grant from the Northrop Grumman Foundation.
The program began in Fall 2013 with a goal to support 15 to 20 scholars annually. Scholars are supported financially and incorporated into a scholarship community that includes special on-campus housing, unique courses, mentoring, and the chance to take part in cybersecurity research and internships early in their academic careers.
Read about the experiences of members of the Cyber Scholars here.

Scholarships
UMBC Cyber Scholars are awarded $5,000- $15,000 per year during the four-year program.

Community
The scholarship is more than a financial award; it is a program that fosters a community through common on-campus living-learning housing, events, and activities. Cyber Scholars will learn from and support one another throughout their college careers, and from core interaction with UMBC faculty and mentors.

Academics
As freshmen, Cyber Scholars will take a special introductory seminar. During the next four years they will take technically focused cybersecurity courses in addition to courses in the computing sciences.

Internships
During their time in the program, Cyber Scholars will take part in at least one targeted cybersecurity internship at a local company or government organization.

Research & Mentoring
Every Cyber Scholar is also assigned a faculty mentor who is pursuing cybersecurity-related research of their own. Mentors will help scholars customize their academic schedules and find internship and research opportunities best suited to them. Cyber Scholars will have the chance to carry out original research within their field.
Who Should Apply
Incoming UMBC freshmen
Current UMBC undergraduate students
Transfer students from other colleges
Students from all backgrounds who want to pursue careers in cybersecurity are encouraged to apply. Applicants must have at least a 3.25 G.P.A.
How to Apply
Applicants must submit the following materials*:
Cyber Application
Two Letters of Recommendation
Official High School or College Transcript
Official Standardized Test Scores (SAT or ACT)**
UMBC Undergraduate Admission Application
*If any of these items have already been sent to UMBC, you do not need to re-submit them.
**ACT and SAT scores are not required for transfer students or current UMBC students.
Be A Cyber Associate
The UMBC Cyber Associates Program is an opportunity for new freshmen majoring in Computer Engineering, Computer Science, and Information Systems who have an interest in the field of cybersecurity to connect with a community of students with similar interests and to further their knowledge and preparation for a future career.  An important part of our mission is to increase the participation of women and other underrepresented groups in the field of cybersecurity.
Students selected as Cyber Associates will:
Live on the CWIT (Center for Women in Technology) Living-Learning Community floor in Chesapeake Hall.
Take the First Year Experience class in the fall semester for CWIT and Cyber Affiliates and Associates to help with a successful transition from high school to college.
Take the Cyber Practicum class with other Cyber Scholars & Associates during the fall and spring semesters during  school year.
Meet once per month with the Assistant Director, Cyber Scholars Program, for help with academic advising, professional development, etc.
Participate in other cyber-related events and meetings (to be announced at the beginning of each semester).
Students must also apply for university housing by this date and fill out the supplemental application for the CWIT Living-Learning Community.
Be A Cyber Affiliate
Students who are not in the Cyber Scholars Program, but are majoring in Computer Engineering, Computer Science, or Information Systems and have an interest in cybersecurity, are encouraged to register as Cyber Affiliates.
Questions about the Cyber Scholars Program?  Contact Cindy Greenwood, Assistant Director, at cindyg@umbc.edu or (410) 455-3881.