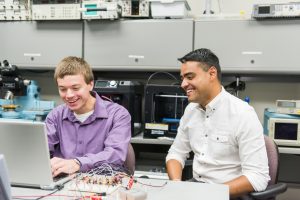 UMBC's strength and success as a research university are founded on our signature approach to inclusivity in the scholarly process and our nimble responsiveness to a rapidly changing research climate. Our campus community enjoys a vibrant, interdisciplinary and collaborative culture supporting research, scholarship and creative achievement.  Many of our most successful and impactful research efforts are based on collaborations – across the campus, with other academic institutions and with outside partners.
Through many long-term strategic investments, UMBC has developed a culture that values undergraduate hands-on participation in mentored research activities alongside UMBC faculty, staff, postdoctoral fellows, Ph.D. students and Master's students.  The faculty and administration recognize the inherent value of research in the education process, and this form of scholarship provides unique opportunities for students to investigate the unknown and discover new possibilities about their areas as well as themselves. We provide internally funded programs to ensure that undergraduates are included in research throughout their academic careers and that they are positioned to communicate and present their findings and contributions to others within their disciplines. Meet our faculty dedicated to cybersecurity education and research.
Learn about current cybersecurity research projects going on at UMBC.
Learn about UMBC's various research labs and facilities supporting cybersecurity education and research.
Learn out UMBC talks, press and scholarly research.