CyberCorps: Scholarships For Service (SFS)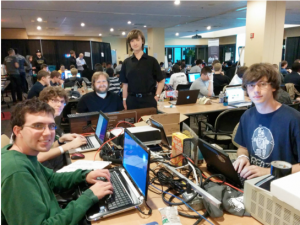 In August 2012, UMBC professors Alan Sherman and Richard Forno were awarded a National Science Foundation (NSF) grant of $2.5 over five years to fund 22 students studying Information Assurance and Cybersecurity at UMBC. The scholarships are funded through NSF's Scholarship for Service (SFS) program, the aim of which is to develop the nation's Cybersecurity education and workforce spheres. In 2018, Drs. Sherman and Forno received nearly $5 million for a 5-year renewal grant to expand UMBC's SFS program enrollment and also build SFS-based matriculation agreements with local community colleges.
SFS Scholars at UMBC receive a full-ride scholarship and stipend. Students will also engage in paid summer internships with federal government agencies and have opportunities to carry out mentored research projects at UMBC and its cyber partners from government and industry. After graduation, scholars must serve at a Federal agency in an information assurance position for one to two years, depending on their level of support.
Who Should Apply
Applicants must be US citizens or lawful permanent residents (citizens preferred)
Full-time rising juniors, MS, MPS, or Ph.D. students in cybersecurity-related programs at UMBC (including CMSC, CE, IS, Cyber)
Must agree to work for the government (preferably federal)
MINIMUM GPA required is 3.25
We seek strong students with a high GPA (> 3.0), high test scores, cybersecurity experience, strong upper-level technical courses, passion for cybersecurity, dedicated to working for the government. If all positions are filled, the November application cycle will be the only application cycle in the 2020-2021 academic year; other application windows & deadlines will be announced as appropriate.
What Are The Benefits
Full tuition fees waived off
Stipend $25,000 – $34,000
Annual scholarship for up to 3 years (government employment required for every year of scholarship)
APPLY THROUGH SCHOLARSHIP RETRIEVER: https://scholarships.umbc.edu/retriever/
For more information visit: https://www.sfs.opm.gov/
Contact: Dr. Alan Sherman or Dr. Richard Forno.