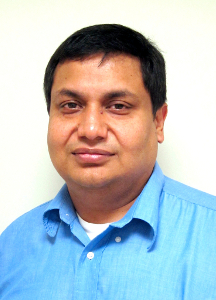 Director, UMBC Center for Cybersecurity
Professor and Chair, Computer Science and Electrical Engineering
Anupam Joshi has been a Professor of Computer Science and Electrical Engineering (CSEE) at the University of Maryland, Baltimore County (UMBC) for more than a decade, teaching courses in Mobile Computing, Security, Social Media, and Operating Systems at the graduate and undergraduate levels.
He is a principal faculty member in UMBC's Ebiquity Research Group, a cohort of CSEE faculty and students who explore the interactions between mobile and social computing, artificial intelligence, data analytics, and security, privacy, trust and services. His own research interests deal with Intelligent Networked Systems, with a focus on Mobile Computing.   Dr. Joshi's research has explored security, trust and privacy from a declarative, policy driven and semantically rich approach. An example of such work is a recent  grant from NSF's Secure and Trustworthy Cyberspace (SaTC) program,  a three year project to investigate how to better manage security and privacy constraints while querying semantically annotated linked data sources. The project, Policy Compliant Integration of Linked Data, is a collaboration with researchers at M.I.T. and the University of Texas at Dallas. He is also exploring how to detect and respond to attacks by using semantically rich approaches to reasoning over sensed security data streams, and exploring security and privacy issues in mobile computing, social media, and healthcare.
In his almost 20 years in academia, Dr. Joshi has published over 175 technical papers, and obtained research support from a variety of federal  (NSF, NIST, DARPA, DoD, …) and industrial (IBM, Microsoft, Northrop Grumman, Qualcomm, Lockheed Martin, …) sources. He holds a Ph.D. in Computer Science from Purdue University, and a B. Tech in EE from the Indian Institute of Technology, Delhi.
Research Projects
Policy based Security and Privacy
Situational Awareness for Detecting and Mitigating Attacks
Assured Information Sharing Lifecycle
Privacy and Security for Smartphones
 Declarative Approach to BGP Security
A detailed list of Dr. Joshi's work in this area can be found at the Ebiquity web site
Contact
Office: ITE 328
Phone: 410-455-2590
E-mail: joshi@umbc.edu