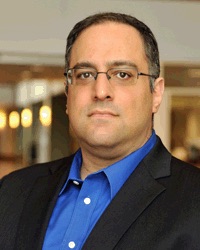 Assistant Director, UMBC Center for Cybersecurity
Director, Cybersecurity Graduate Program
Dr. Richard Forno is a Principal Lecturer in the UMBC Department of Computer Science and Electrical Engineering, where he directs the UMBC Graduate Cybersecurity Program and serves as the Assistant Director of UMBC's Center for Cybersecurity. His twenty-year career in operational cybersecurity spans the government, military, and private sector, including helping to build the first formal cybersecurity program for the U.S. House of Representatives, serving as the first Chief Security Officer for Network Solutions (then, the global center of the internet DNS system), advising Fortune 500 companies on critical infrastructure protection, and co-founding the CyberMaryland conference. Dr. Forno was one of the early thought leaders on information-age conflict and continues to have a strong interest in the influence of technology upon national security, individuals, and global society.
In addition to teaching cybersecurity at UMBC, Dr Forno has lectured on cybersecurity, information warfare, and infrastructure protection at American University and the National Defense University in Washington D.C.  He is an affiliate of the Stanford Center for Internet and Society (CIS) and from 2005-12 was a Visiting Scientist at the Software Engineering Institute at Carnegie Mellon University, serving as an instructor for the CERT Coordination Center (CERT/CC). Dr. Forno also assists managing UMBC's SFS cohort and co-advising our national champion cyberdefense team, the 'CyberDawgs'.
His interdisciplinary research and professional interests include information age conflict, cybersecurity, risk communication, and the social shaping of technology — specifically, issues related to resiliency. autonomy, and cognition in networked societies. In addition to many articles, papers, and commentaries over the years, he is the co-author of Incident Response (O'Reilly 2001) and Cybersecurity for Local Government (Wiley 2002). Forno holds a Ph.D. in Internet Studies from Curtin University of Technology in Australia and is a graduate of Salve Regina University, the Naval War College, American University, and Valley Forge Military College.  He has received research support from NSF and DoD.
Selected Research Projects & Activities
2018-2023: Co-PI: "UMBC CyberCorps Program Renewal and Building Research-Based SFS Relationships between Community Colleges and Four-Year Schools" (Alan Sherman, PI). $4,988,073 from the National Science Foundation (NSF).
(2016-): UMBC Veterans Faculty Fellow. Along with PI Dr. Meredith Oyen (History) and Dr. Dan Burnhart (OCSS), developing 'Green Zone Training' for faculty and staff to better understand veterans issues. Supported by a seed grant from the Hrabowski Fund.
(2013-): hackUMBC. Faculty advisor to UMBC's student hackathon club and annual 24-hour regional hackathon event.
(2012-): CyberDawgs. Along with Dr. Charles Nicholas, we advise UMBC's student cyber-competition team. National CCDC Champions in 2017!
(2012-): Federal Scholarship for Service Program (SFS). Along with PI Dr. Alan Sherman, this was an initial NSF grant of $2.5 million over five years to fund students studying Information Assurance (IA) and Cybersecurity, also known as the Federal CyberCorps. It has since received multiple suppliments for various related activities.
(2011-2015): Maryland Cyber Challenge(MDC3)
The Maryland Cyber Challenge (MDC3) is a unique and exciting initiative developed and designed especially to encourage young Marylanders to enroll in IT and computer science courses and pursue careers in Maryland's cybersecurity workforce. The Challenge runs in three competitive divisions: high school, collegiate, and professional, with student winners receiving significant cash prizes provided by NSA.
Contact
Office: ITE 325A
Phone: 410-455-3788
E-mail (preferred mode of contact): richard.forno@umbc.edu